Grand Master Alof de Wignacourt (1601 – 1622) personally financed the construction of 6 coastal towers to defend the coastline of Malta. The first erected was the tower at St Paul's Bay in 1610 and was named Wignacourt Tower in honour of the Grand Master. The Knights of Malta had already constructed a Coastal Tower in 1605 at Mgarr Gozo. This was demolished in 1845 meaning that Wignacourt Tower is today, the oldest surviving coastal tower on the islands. For 39 years, it remained the only northern defence post until the Red Tower was erected in 1649.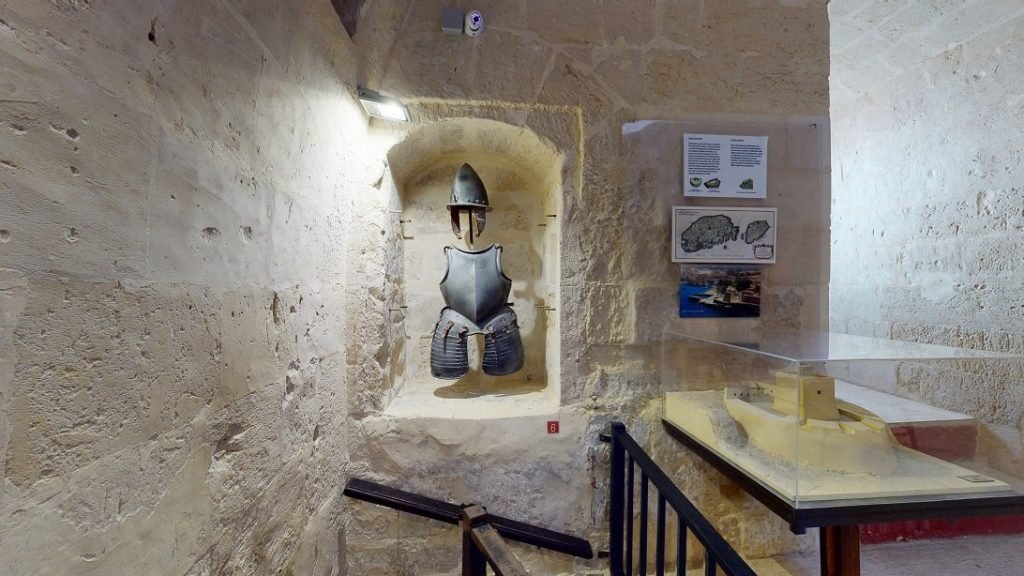 The original entrance to the tower was at first floor level. This was accessible through a stone staircase leading to a drawbridge located in front of the entrance door. The stone staircase was sadly demolished in the early 1960's as it was hindering street traffic flow.
The soldiers' living area was at first floor level. The room at ground floor served as a storage area. This was accessible through a trap door, now replaced by a spiral staircase and descending by means of rope or ladder.
Luxurious domestic commodities for those times were included in the construction of the tower. A fireplace complete with chimney, a toilet and a fresh water well are still in place. A unique feature in Malta for early 17th century defensive posts is present at first floor. This is made up of the original wooden entrance door complete with its original door lock and key.
The garrison of Wignacourt Tower, which was commanded by a master bombardier, kept watch for signs of approaching enemy ships. In 1715 a coastal battery was added to the tower to increase its fire power. The tower's armaments throughout most of the eighteenth century consisted of three 6-pounder iron cannons, similar to the one deployed on the roof and three 18-pounder iron cannons placed on the battery at the foot of the tower on its seaward side.
Today, the ground floor room houses a permanent exhibition about the construction of fortifications in Malta since written history. At first floor a small museum details and describes the tower's unique features and other coastal fortifications in Malta.
The Tower roof offers spectacular views over St Paul's Bay. During 2019, Din l-Art Helwa and re-enactors from the group Show Of Arms restored the Knights period cannon located here. It was officially fired, after centuries of silence, on the 10th February 2020 to commemorate the 410th anniversary from the laying of the Tower's first foundation stone. This is the oldest original cannon restored to firing conditions in Malta.