The Chapel of Sta. Lucija
The Darmanin family of Birgu built the chapel in 1500. Monsignor de Siena paid it a visit in 1575. It overlooks Wied Qlejgħa, one of Malta's most beautiful valleys, and the view from the Chapel is breath-taking.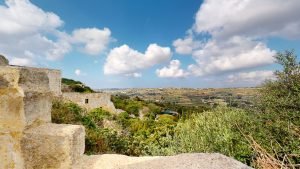 Its rector, Dun Mikiel Saliba, enlarged it a few years ago by opening up the sacristy to create an extra wing. To make way for the new sacristy, an old staircase was demolished. During the excavation, an old semi-circular crypt was discovered. It had been destroyed when stone was extracted from it to be used in the construction of the chapel. Fr. Saliba discovered sacks of mouldering ex-votos below stairs, the majority of which were quite decayed. On some of them , the years 1911 and 1917 were easily discernible.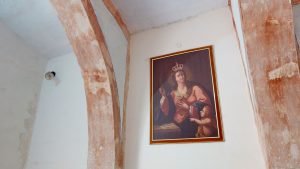 During the 1914 and 1918 wars, when the Mtarfa military hospital was the main one on the island, many of the war wounded suffered from poison gas damage to their eyes. They presumably offered the ex-votos to St. Lucy, who is traditionally regarded as the protector of those suffering from eye disease.
The St. Lucy painting is quite old. During a solemn ceremony, Monsignor DePiro, who later founded the Missionary Society of St. Paul, crowned it.
Mass was said on Sundays under Fr. Saliba's rectorship, and children from the neighbourhood were taught the Catechism at St Lucy's. Every day in October, Mass was said and the rosary was recited.