To interact, click or tap the screen below at any time and 'walk' around the Church.
The Church of The Nativity of The Virgin Mary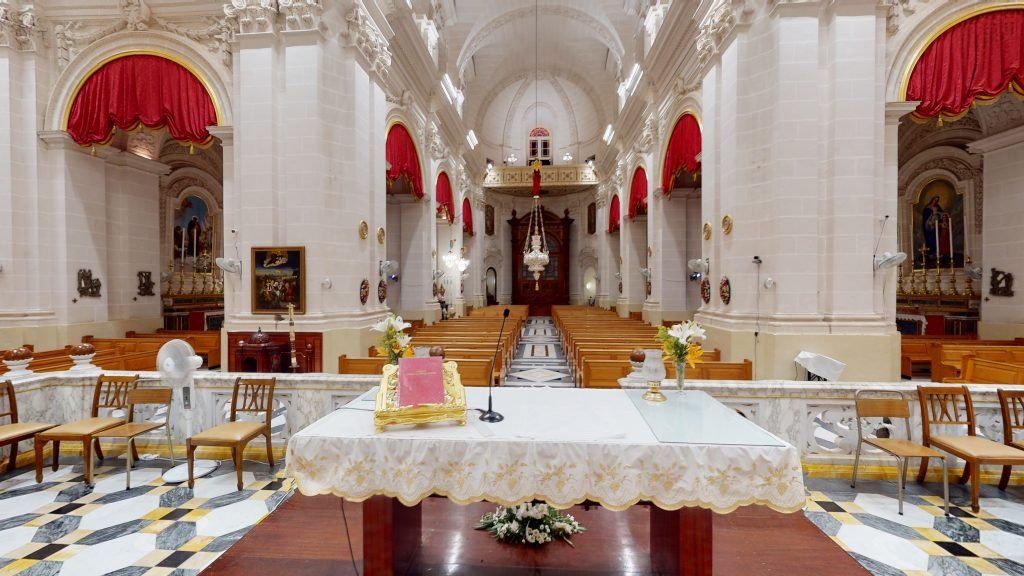 Mellieha became a parish again in 1844, having being without one since 1436 due to corsair attacks. Throughout this period, the shrine of Our Lady, Malta's oldest, remained a center of devotion in Mellieha.
The Parish Priest, Rev. Francis Maria Magri, laid the first stone of the new church in 1883, and Bishop Pietro Pace blessed it on September 5, 1897. The building was completed in 1898. Bishop Mauro Caruana dedicated the Parish Church of the Nativity of the Virgin Mary on February 18, 1930.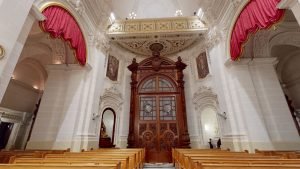 The Parish Church of Mellieha is dedicated to the Birth of Our Lady and was erected between 1881 and 1898 on a scenic slope with excellent views of the Mediterranean Sea. The stone was cut from a nearby quarry at l-Ahrax tal-Mellieha and hauled up to Mellieha by local peasants who worked tirelessly to make their dream of a new church a reality.
When the church was finished, the Parish Priests Dun Frangisk Magri, Dun Carlo Cortis, and Dun Indri Fenech worked to decorate the interior.
The belfries and dome were built between
1920 and 1940, and five bells dedicated to St. Francis, St. Joseph, St. Anthony, St. Paul, and the Virgin Mary were brought from Milan. The church altars were decorated with paintings by the best Maltese artists, including the renowned Lazzru Pisani and Giuseppe Cali (The Shipwreck of St. Paul).
It is also the beginning point for the Mellieha Village Festa's climax, when The Statue of Our Lady is brought through the streets from the church each September.
The Paintings of Giuseppe Cali
Cali was one of seven children born to the artist and musician Raffaele Cali, who worked as a set designer at the Royal Theatre, and the mezzo-soprano Giovanna Padiglione. Baby Giuseppe was baptised at the Dominican Parish Church of Porto Salvo. It was in 1840 when his parents, who were originally from Naples, made the move to Malta.
Giuseppe Cali left us five large and beautiful paintings in the Parish Church of Mellieħa where we find the titular representing Our Lady of Victory, Saint Elena, Saint Gaetano, the Madonna of the Rosary and the Shipwreck of Saint Paul.
The Parish Church had just been completed, although without bell towers, and Cali threw himself into this work, so much so that during 1898 he finished four paintings, and another one the following year in 1899. Of course, we find that the titular is the biggest one and is 6.5 meters high and 2.5 meters wide, behind it are those of Our Lady of the Rosary and of Saint Paul which are the same size as each other with 5.5 meters high and 2.5 meters wide. The last two, of Saint Gaetano  and Saint Elena are 3.3 meters high and 1.75 meters wide.
Extract translated from "Giuseppe Calì u l-kwadru tan-nawfraġju ta' San Pawl fil-knisja parrokkjali tal-Mellieħa"  by Jimmy Muscat (2010)